ONLINE AUCTIONS:
---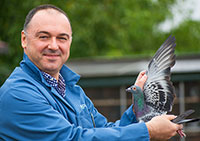 TEAM FLOREA SORIN
Super auction from internat. topteam!
One of the biggest pigeon-fanciers in the world, Mr. Florea Sorin, and his team, present a fantastic group of pigeons for you!
Due to the fact that he has to move his lofts, these fantastic pigeons can be presented for you - and we are proud to collaborate with this wonder-team! Enjoy!
Link to additional: Introduction
Part 2.1 ends 02/10!
At 14.30-15.30 CET

Part 2.2 ends 02/10!
At 16.30-17.30 CET

Part 3.1 ends 09/10!
At 14.30-15.30 CET

Part 3.2 ends 09/10!
At 16.30-17.30 CET
These pigeons are in HOLLAND at the moment!
LATEST ARTICLES:
---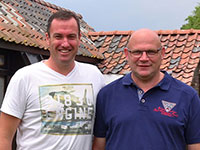 TEAM NOËL-WILLOCKX
Super results on the nationals!
So far the season has been fantastic for the wonder-team - this year only racing with youngsters and 1 (!) yearling!
---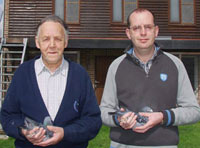 GUY BAERTS
The story about the foundation cock LITTLE JOE!
Read more about this super bird - a real stockbird - founder of a colony! And pay attention - right now you have the chance to buy a direct daughter of LITTLE JOE - see auction above!!
---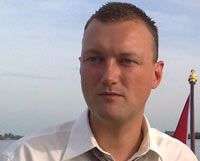 SJAAK BUWALDA
2015 - the winning streak continues!
Sjaak Buwalda continues his super results on the marathon distances - read about 2015 - yet a new season with topresults!
---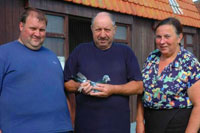 MARC & GEERT POLLIN
2 x 1st National in 2 weeks time!
A fantastic season by Pollin was triumfed by 2 national winners with one week - again the foundational lines did it!!
---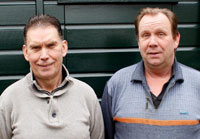 GEBR. POUW
New Lines with bravour!
Gebr. Pouw have invested quite a lot in new strains the last season - and with big success - still they maintain the speed of their pigeons!!
---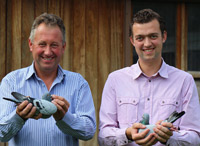 GINO CLICQUE
3 super results in only 2 weeks!
Gino Clicque, his family and team continue the high standard from the season last year - and again they are in the very top every week - the 2 last weekends have been magneficient!!
LATEST BIDS ON THE AUCTIONS:
---
---

DAPIRACE 2016 AUCTION
All pigeons from finale!
After a super finale and a fantastic final-day we hereby provide the sale of all pigeons!
Pigeons are parted in groups - after their final result!
Link to additional: Introduction
Ends 02/10!
At 14.00 CET

Ends 02/10!
At 15.00 CET

Ends 02/10!
At 16.00 CET

Ends 02/10!
At 17.00 CET

Ends 09/10!
15.00-16.00 CET
These pigeons are in DENMARK at the moment!
---
PRE-AUCTION:
---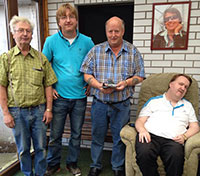 FREIALDENHOFEN AUCTION
LIVE auction in Denmark!
On Saturday 1/10 the Ronn-family from Denmark will sell their direct Freialdenhofen plus children from them LIVE in Denmark - you have a chance to bid online here till Thursday 29/9 - and your onlinebid will be used as starting bid on the live auction!
Important - this is a PRE-auction - so the onlinebids will not be the winning bids - the winning bids will be determined on Saturday 1/10 live!
If questions about this, please contact us!
Prebidding will end on Thursday 29/9!
These pigeons are in Denmark now! Bidding is in Danish Kroner.
---
FIXED PRICE PIGEONS
More and more fanciers have asked for the possibility for Fixed Price Sales - take a look at the offers on the page now!
---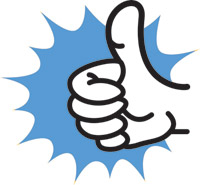 TEAM M&C HANSEN
Find your local contactperson here!
---
---
Archieve:
P & P Solleveld - for years at the top of the ZLU and NPO races!
Bosmans-Leekens - 1. Interprov. Gueret 2015!
Huub Hermans - super start of the season 2015!
Beautiful story about GOLDEN EYES
Dennis Veugelers - part 2
John and Mitchell Rekers - the outstanding partnership!
Sjaak Buwalda - a season of marathon magneficence!
Comb. Zwiers & Vd Goorbergh - young, strong longdistance team!
Harold Zwiers - - 19th Internat. Barcelona 1275 km!
Huub Hermans - super last race season 2014!
Comb. P&S Verbeek - Grandson MIDNIGHT sire to 1st Ruffec
Jelle Jellema - 1st and 3rd International Barcelona!
Comb. P&S Verbeek - Grandson DELGADO wins 1st Nat. Agen
Comb. P&S Verbeek - Marathon Specialists 10th NPO CAHORS
Comb. v.d. Wiel-Schreuder - 6th NPO Argenton
Gebr. Pouw - 6th NPO Vierzon
Huub Hermans - 6th NPO Lorris!
Dennis Veugelers - a young talent!
Jacob Poortvliet - 1st NPO Sens!
Huub Hermans - 1st NPO Lorris!
Gebr. Pouw - 2nd NPO Salbris
Maurice V.D. Kruk
Johan den Hartog
W. Geurtz & Zn
Comb. Molenaar
Bert Braspenning
H. Doldersum & Zn.
Lambrecht-Lismont
G. Pouw
G. Lindelauf & Zn
Jacob Poortvliet
Huub Hermans
Jacob Poortvliet
Sjaak Buwalda
Wim Muller
Jef De Wilder
Ulrich Lemmens
Marc Pollin Gebr. Pouw
Marco Braspenning
Maurice V.D. Kruk
H. Doldersum & Zn.
Marc Pollin
Marc Pollin
Huub Hermans
Gebr. Koehoorn
Comb. Beverdam
Jan & Wim Clermonts
Sjaak Buwalda
Comb. Tjitte-Lesley
H. Wijnands & Zn.
Comb. W. & J. Koelma
Marc Van Haute
Henri & Guy Baerts
Gebr. Pouw
Van Rijn-Meeder
Ulrich Lemmens
Huub Hermans
Maurice V.D. Kruk
Vanoppen-Luyten
Piet Valk
Comb. W. & J. Koelma
Comb. Van Rijn-Meeder
Martin Xuereb
Jan Van De Pasch and daughter
Jos Joosen
Freialdenhofen & Söhne
Huub Hermans
Vanoppen-Luyten
Joe Saliba, Sea Spray Lofts
Sjaak Buwalda
Gebr. Pouw
M&G Casaert
Harold Zwiers
Boscheind Flyers
Maurice V.D. Kruk
Piet Valk
Gebr. Koehoorn
Visiting Malta
Pigeon Racing in Malta
Arjan Beens
Jacob Poortvliet
Ulrich Lemmens / Marc Van Haute
Ivo Renders
Ferry Van Loo
Ko Van Dommelen
Comb. L. Stabel & Zn.
Gebr. Pouw
SG Mack
Kenji Schmitt
Frans Timmermans
Jos De Ridder
Nance & Bart Van Oeckel