Latest news:
---
COMB. P & S VERBEEK
Dynamic Marathon Duo!
Founded on the famous Aarden pigeons, dynamic envolved with speed and stamina to a close and strong family - racing with only few pigeons but with very good results - strong pigeons, strong eyes - here is a marathon injection!
Ends Sunday 2/11!
---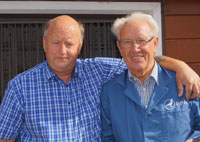 DE RAUW SABLON BREEDING DK
Collection of De Rauw Sablon pigeons!
These 2 Danish fanciers have during the last years selected and purchased a nice collection of pigeons from the popular De Rauw Sablon strain - here a round of beautiful blue pigeons from their best couples!
Ends Sunday 2/11!
---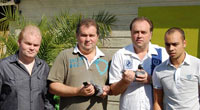 GEBR. SANDERS & ZNN
Super Race-Family!
As always the family Sanders brings the best for auction - and after a splendid season 2014 fantastic birds at this auction - incl. lot 1 directly from the old foundation cock DAAN!
Ends Sunday 9/11!
---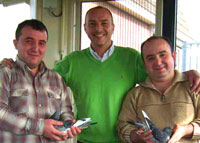 R. & M. TEKIN
The Golden Breedingloft!
A super list of marathon pigeons - from golden Jan Aarden lines - and from topnames like Batenburg Vd Merwe, Wijnands and Jellema - incl. lot 1 a halfbrother to 1. Nat. Perpignan 2014!!
Ends Sunday 9/11!
---
SJAAK BUWALDA
- a season of marathon magnificence!
A super season for Sjaak Buwalda and his marathon birds - showing again that he belongs to the very top at these tough races!
Online auction with 16 youngsters from his absolute best breeders will start in October!
---
COMB. ZWIERS & VD GOORBERGH
- young, strong longdistance team!
The combination of 2 young topfanciers - new name on the national marathon scene - we are sure that they will demand many topprizes in the future!
---
HAROLD ZWIERS
- 19th Internat. Barcelona 1275 km!
The foundation lines from Harold Zwiers made it from a long Barcelona flight - first pigeon YAIKA 19th International!